Geotechnical Contractors specializing in engineered foundation solutions
AMCON Limited is a design/build geotechnical contractor specializing in the latest ground engineering technology. Our patented systems are designed to:
Improve ground conditions to allow for conventional foundations on poor soil
Provide additional foundation support for existing structures
Stabilize slopes that have been compromised due to poor soil conditions
Our customers range from engineers, contractors, developers and owners who are challenged by new and existing construction on poor soil, to the home owner whose house has settled due to poorly compacted fill. We offer complete design/build service including preliminary design and recommendations; final design and preparation of stamped engineered shop drawings; construction services; load testing and quality control.
Our value proposition is to provide geotechnical solutions that will save money, time, and provide ease of installation over conventional systems. We provide complete turn-key service which ensures a smooth and expedient transition from design to construction with none of the typical problems that can occur between independent engineers and contractors such as design issues causing delays and extras. Servicing Atlantic Canada, we offer the latest technology to solve problems associated with poor soil including: Geopier Rammed Aggregate Piers®; Helical Foundation Systems; Injection Bore IBO® Micro-Piles; and SRT™ Slope Reinforcement Technology just to name a few.
Geotechnical Services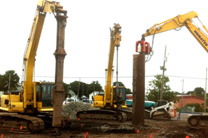 AMCON offers innovative engineered solutions for deep and intermediate foundation support. We offer a complete design/build service including: preliminary proposals, final design, construction, and quality control.
Geotechnical Products and Systems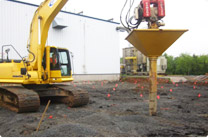 AMCON has a team of professional engineers on staff to assess any problem associated with poor soil and make recommendations based on sound engineering using the latest technology to save money, time and ease of installation over conventional systems. Our offerings include ground improvement, micro-piles, helical piles, excavation shoring, soil stabilization and more.