Tom's Lake Dam, Guysborough, Nova Scotia Vibro-Hammer Driven Sheet Piling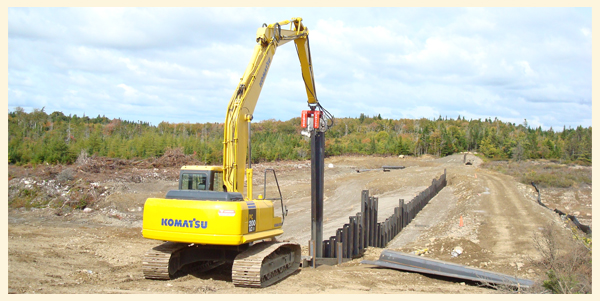 THE PROBLEM
As part of a remediation program for the Tom's Lake Dam, Nova Scotia Power wanted to install a continuous watertight steel sheet pile diaphragm across two spillway structures.  The remoteness of the site, poor access and high mobilization costs of traditional piling driving equipment, made the use of an excavator mounted vibro-hammer an ideal choice to install the sheet pile.
THE SOLUTION
The vibro-hammer was mounted on a 20 ton excavator that was equipped with a specially fabricated dipper arm extension which enabled the excavator to lift sheet piles up to 7 meters long while maintaining a 2 meter ground clearance.  The vibro-hammer drives the sheet pile using high frequency vibrations that liquefies most granular soils resisting the pile.  This vibrational force coupled with the down-crowd force applied by excavator boom coupled with weight of vibro-hammer and the pile is sufficient to drive most sheet piling into dense soils with N values up to 30 blows per foot.  The vibro-hammer works equally well in reverse for pile extraction.
The low mobilization costs, mobility of the equipment and the speed of installation made the excavator mounted vibro-hammer a practical and economical solution to drive the sheet piling.