Saint John YMCA Geopier® Rammed Aggregate Piers®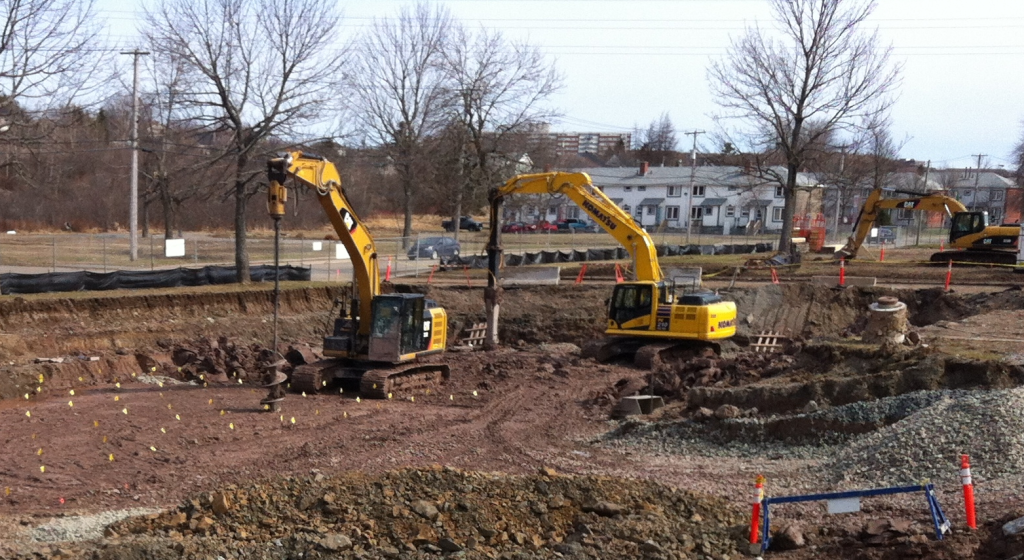 Description
The new YMCA proposed for the city of Saint John, New Brunswick would consist of a 70,000 sq.ft. structure providing indoor track, swimming pool, fitness centre and studio facilities with a goal to revitalize the north end of the city.
The problem was that the site selected for the project was overlaid with a thick layer of soft reddish brown clay up to 30 feet deep and deemed unsuitable for supporting the new footings and floor slabs of the new facility.
The Geotechnical Engineer recommended that all fill material be removed and replaced within the building footprint with compacted structural fill. The high cost of excavation and disposal of materials, dewatering of the site, stabilizing the excavation and replacement with structural fill created high costs that encouraged the owner to seek an alternative solution.
Solution
The Geopier® Rammed Aggregate Pier Intermediate Foundation System was chosen as an alternate solution to over-excavation and replacement. The choice resulted in significant savings over and accelerated the construction schedule due to the speed of installation in any weather.
This unique installation process involved pre-augering 30-inch diameter holes through the fill and ramming 12-inch thick lifts of well graded aggregate with a beveled tamper to form very stiff, high-density aggregate piers. The ramming action both densifies the aggregate and forces the aggregate laterally into the side walls of the hole, significantly strengthening and stiffening the subsurface soils, that then can support traditional spread footings and unreinforced slabs on grade.
Geopier® Rammed Aggregate Piers exhibit unsurpassed strength and stiffness which reinforces poor soils thus increasing its bearing capacity and provides total and differential settlement control within acceptable standards.